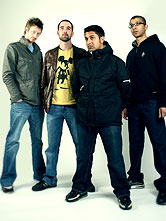 Inspiring singer songwriter Jamie Waller (Lead Vox/Rythmn Guitarist) and long time friends Rob Newman (Bass/Backing Vox), started the Frowser project along with the addition of Jatinder Balkhu (Drums/Backing Vox) and brother Sam Balkhu (Lead Guitarist). The formation of friends and brothers born and raised in West London unite forces to form "the mighty" Frowser.
Described by local press "a lesson in confidence and bravado", Frowser are now taking this attitude and channelling energies into the world domain. With their now released mini album, recorded at "Rising Records" by Mark Daghorn (Cradle of Filth/Trigger the Bloodshed), add to this, exclusive artwork by Chet Zar (Tool/Hellboy 1 & 2/Planet of the Apes) this new mini album titled "The Silver Shell Club" is shaping up to be something special.
After already playing dates in the USA, Miami 2009, Frowser then played the Visionary Tattoo Arts Festival in New Jersey in the summer 2010. Now returning to New Jersy this summer with added dates in New York & Brooklyn this truly shows the intent that this well versed quartet and fiery individuals have got. With a strong live presence, melodic universal harmonies wrapped in powerful hooks, comprised of four members who have certainly endured life together in the spirit of creating passionate music. With influences from Rage Against the Machine, Tool, Deftones and Muse, Frowser are a diverse band with a modern but timeless fusion of Heavy Rock.
Frowser reinforce their bond to create a textured, modern rock/metal sound from the heart of the UK!